We've all heard of bigfoot, the giant ape that walks like a person, and has apparently been roaming around America's woods and forests for decades.
If only there was more than just one lousy shaky piece of footage of the thing! Whenever it comes out of the woods, why is there never a film crew ready to interview it.
"So Mr. Foot we hear you're quite a reclusive character, did you have trauma in your childhood?"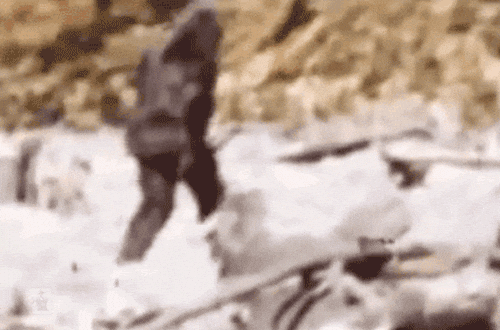 Well anyway, we're all one step closer to that day, because we no longer have to go out and find Bigfoot! Nope, we just sit back and let one – because there has to be a few of them, of course – come right to us!
A wife and mother from North Carolina claims she has made her very own spray at home which will do just that!
Allie Megan Webb claims her 'Bigfoot Juice' (catchy title!) can attract any Bigfoot within a mile and a half radius.
Impressive! We can't wait to see it in action!
Sold the knockdown price of just $7 a bottle, the "environmentally friendly" Bigfoot Juice also doubles as a bug spray, said creator Allie. So really you're getting two products for your buck. I'm sold already.
Apparently, Allie who runs her own company called Happy Body Care in Marion, North Carolina is totally serious. In fact, she creates potions like these for her business all the time, sitting at her kitchen table.
But I guess the real question is, how does she know it works?
"That's a tough question!" she laughs "I guess I could ask how do you know it doesn't work?"
Do you want to tell her, or should I?
Despite the fact that you might be a tad sceptical about Bigfoot Juice's miracle properties, Allie says that she has heard proof for herself that her spray does, actually attract a Bigfoot!
Still impressive!
Field tests have been done, she said, because you can't just go making crackpot claims about this sort of thing, no sir.
Tests have included a recent outing by the research group Bigfoot 911, in which a Bigfoot sighting was reported. It happened the first week of August, in the woods of McDowell County and even made the national news!
"I think that's enough to say it can attract a Bigfoot," says Allie. Of course!
"To attract a Bigfoot, you need a smell that is woodsy enough to keep from scaring him off. But slightly different enough to make him curious, and come to investigate,"
Well, she certainly sounds like an expert, I'm sold!
The internet isn't sure what to make of the whole thing, so I guess we'll just have to wait for that big exclusive interview to come around.
For her part, Allie understands people may doubt that her product works or not, and doesn't definitely know that there is a Bigfoot herself.
"But I do believe there is something out there in the woods," she says. "I'm definitely not trying to make fun of people who believe. A lot of people are more serious about this than I thought. There are people around the world inclined to believe Bigfoot is real."
That includes her husband Corey, who has been a member of the Bigfoot 911 group who made the sighting in McDowell County since 2014. He was even there on the night, when the group got their big break!
So he's seen a real live Bigfoot? Um, nope. He didn't actually see anything then, either. But he's convinced it's out there!
Allie says that Bigfoot Juice was really all Corey's idea, and it came from when he was using her home-concocted bug spray during Bigfoot hunts, and asked her to make something less "feminine smelling."
She whipped up a more musky, outdoors smell and presto! Next thing you know, the team spotted a Bigfoot!
So what do you think? Would this stuff really bring a Sasquatch running? Or do you think it's all a lot of cr*p? Let us know with a COMMENT and don't forget to SHARE this bizarre story with your family and friends!