Back in the 1990s, the question on everybody's lips was would Kate Winslet and Leonardo DiCaprio ever get it together, like they did in the movie Titanic?
Well, now Kate Winslet has finally spoken about why her and Leo DiCaprio never got together in a real life romance. The answer is much simpler than you think, but Kate has been giving several interviews recently where people seem genuinely interested.
Maybe even a little confused! I mean, come on Kate, it's Leonardo DiCaprio!
Winslet and DiCaprio really set the screen on fire with their chemistry back in 1997, and set hearts racing as the doomed lovers Jack and Rose in the blockbuster hit Titanic.
So much so audiences really wanted their on-screen romance to spill over into becoming a real romance!
I suppose it helps that Di Caprio has just gotten finished getting everybody's eyelashes fluttering with his amazing good looks when he played Romeo in Baz Luhrmann's updated version of Romeo and Juliet.
But what made audiences go for Leo and Kate as Jack and Rose over him and Claire Danes as the star crossed lovers Romeo and Juliet?
Anyway, spoiler alert, for those of you who haven't seen the movie in question: that's right, all three of you.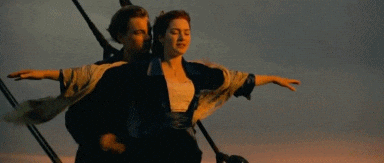 The boat sinks at the end. Just freakin' kidding! No, really, it does. But that's not the whole point of the movie.
Upper class Rose is being forced into a marriage to her fiance when she takes a trip to New York on the Titanic, where she meets poor artist Jack, who won tickets in a card game.
The two strike up a love affair but disaster strikes when the ship hits an iceberg. Left in the freezing water, Jack dies in Rose's arms clinging to a piece of wreckage, while she is rescued.
Sob!
How could they NOT get it together after all they went through together I ask you!
Even if it wasn't really real… sheesh, I guess they either did a really good acting job, or we remember this movie WAY more fondly than anybody has a right to.
Anyway, for some reason Winslet never actually fancied Leo, who these days seems to enjoy his single lifestyle, with a new girlfriend – who is also a freakin' model most of the time – for each day of the week.
"We were both very young and luckily, and this was the fortunate thing, we never fancied each other," she said in a recent TV interview.
You didn't Kate?! Really? You must've been the only girl in the world at the time!
Anyway, she was right about one thing, with the actors being just babies at 23 and 24 when they met on the set of Titanic.
Kate feels for us though, and she knows she's breaking hearts with revelations like this.
"I know that's really annoying to hear, sorry," she continued, "We really never did. So it did mean that we were able to tease each other, which we still do, which is really amazing."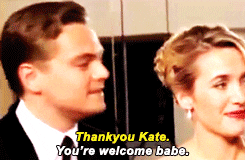 Well, it was all a very long time ago now anyway. Just like the rest of us, Winslet can't really believe that Titanic was now 20 years ago! Time sure does fly!
"The lovely thing about Titanic for me now, my children and their friends say, 'Oh, I love the bit in Titanic when you did…' they are reciting lines from Titanic that I've long forgotten," she said on the show.
"There's another generation of children who are enjoying it and loving it for the first time. It's like Mary Poppins I like to think."
Earlier in the week, appearing on Good Morning America ahead of the release of her new film The Mountain Between Us, Kate was asked if it was true that she and Leo still quoted lines from Titanic to each other.
She just nodded and replied with: "You know. I know you love us even more now!"
If that means nothing to you, you're clearly not a Titanic fan like the rest of us!
"I do feel so grateful for that friendship. And honestly it is like family. It's one of those rare, Hollywood friendships that I just feel very, very blessed to have," she says.
Leo is clearly not too cut up about Kate not fancying him either, and he's been busy chasing down that Oscar win ever since they last starred together.
"I sort of wish there was like a soap opera version of the story where actually Jack and Rose really do end up together. But no."
Damn it!
Do you have fond memories of this movie? Or are you still p*ssed at Kate Winslet for not letting Jack on the door at the end of Titanic? Let us know with a COMMENT, and don't forget to SHARE this article if you enjoyed it!